The inaugural WCTE-PBS Downtown Film Festival, in partnership with the Cookeville Performing Arts Center and The Storyteller Agency illuminated Cookeville's Historic West Side on August 29, 2020. The festival was a celebration of the best in non-fiction film, including a one-minute competition of viewer-submitted content via the PBS American Portrait digital platform, that stared you and your community.
The Festival: Intro and Schedule
Everyone has a story, and this year those stories were told in a big way at Downtown Film, with a full schedule of festival award-winning documentaries, interesting talk-backs, engaging workshops with filmmakers, and delicious food and drink from area restaurants and bars. On Saturday evening, as the sun went down, the festival created a cinema under the stars for an after-dark film walkabout, with the top local videos from the American Portrait video categories projected onto the sides of Cookeville's landmark west side buildings.
Couldn't make it to the festival this year? You can still enjoy the fun by attending our virtual festival with BingeWave! Stream the films the same time they are being shown at the festival, from anywhere in the world! Get your virtual festival pass now! $5/screening or $25 for an all-festival pass.
Submit Your Video - BE A STAR!!
The PBS American Portrait video project is open to anyone and everyone who would like to submit, requiring only a one-minute video look into your life, guided by prompts such as "I was raised to believe . .. " and "What gets me out of bed in the morning is ... " Now is the time to tell your story and see your face on the big screen! Submitting your American Portrait video is so easy – check out this "How-To" video for a quick tutorial, then grab your cell phone, hit record, and boom! You're instantly a star, with a chance to see your face and your story illuminated in a big way during the festival.
Festival Submission Categories and Awards
The Submission Portal is now CLOSED. The Downtown Film Festival was open to submissions from filmmakers around the world, and winners received an award and a direct pipeline to public media, with winning work shown on WCTE. Awards were given in the following categories:
Best Documentary– 15-39 Minutes
Best Mini-Documentary – Under 15 Minutes
The Stanger Award – Honoring and celebrating the best unfinished documentary
Young Filmmakers' Award – Celebrating and honoring works submitted by filmmakers ages 14-19 years old
The American Portrait Series – Honoring the best one-minute videos from the PBS American Portrait storytelling project -

https://www.pbs.org/american-portrait/create
---
A LITTLE MORE ABOUT DOWNTOWN FILM
Downtown Film has been an idea in the works for years, and WCTE is proud to partner with Cookeville Performing Arts Center and The Storyteller Agency to offer a new community initiative and creative outlet, something that can continue to offer a voice and storyteller platform for our region and home. Storyteller Agency founder and Film Festival Director Laura Holloway said, "It's wonderful that this will provide a new experience for the community, but also that it gives the opportunity for creative people to do what they need to do: create:"
WCTE CEO Becky Magura has been pushing for a film festival for years, and she is excited that this festival continues to promote WCTE's core mission of documentary film making.
"WCTE PBS is committed to telling local stories, but also to continuing being the home for independent nonfiction filmmakers," Becky commented. "The WCTE PBS Downtown Film Festival is a dream come true for me. I'm excited to partner with Chad McDonald and the Cookeville Performing Arts Center, as well as to have Laura Holloway of The Storyteller Agency leading our team. PBS American Portrait is a new series of user generated content and will be a focus of this year's inaugural festival. Laura has a wonderful vision of taking these films to the streets. I hope this is only the beginning of a growing community of festival enthusiasts as well as a pathway for filmmakers to partner with public media in sharing their stories!"
TICKETS
Downtown Film's walking cinema tour is free and open to the public, with no ticket purchase required. Workshops, screenings at CPAC, and other festival happenings will incur a separate ticket cost. VIP wristbands are available for festival-goer purchase, including a full schedule of happenings, a limited-edition festival t-shirt or tumbler, discounts at local restaurants during the festival, and more. VIP wristbands will be available for purchase on Friday July 17th.
SPONSORSHIP
Sponsorship Opportunities can be found HERE.
RULES FOR FILM SUBMISSION
All submissions must be submitted, with all required documentation and necessary file share, no later than 11:59PM on August 14, 2020.
Competition is open to everyone.
Accepting film lengths of 15-39 minutes (Short), and under 15 minutes (Mini-Doc). Any film submissions exceeding 39 minutes will not be accepted.
Films not in the English language must be subtitled in English.
Entries must be submitted for pre-screening on Vimeo or YouTube link. If you use a secured link, you are REQUIRED to keep us updated with passwords or your film may be rejected. NO HARD COPIES WILL BE ACCEPTED FOR ENTRIES.
Each filmmaker may submit up to two entries.
WCTE employees, including seasonal staff, board members, sponsors, and their immediate families, may submit films for screening consideration, but are not eligible for competition in any category at this festival.
By submitting your work (features, shorts, episodic & VR or 360 film experience) you are giving permission for the WCTE-PBS Downtown Film Festival to showcase your work at the festival and for promotional purposes.
---
The story teller agency
Laura Holloway
Email: LHolloway@wcte.org
Phone: 931-528-2222
Laura was raised in Cookeville, working behind the counter at her family's bookstore, BookWorks, and performing on what is now the Cookeville Performing Arts Center stage. She has a passion for sweet tea and people who say "y'all". She also almost two decades of experience in Los Angeles in the film and television industry, in Phoenix as a marketing strategist and journalist, and on 30A in Florida, where she founded The Storyteller Agency, a pioneer in storyteller marketing that is now celebrating its seventh year. Now, back in Cookeville with her husband James and their two sons, Laura was asked to join the film festival project and jumped at the chance to create something new and different in her hometown. She is also a founding member of the Storyteller Theatre Company and creator of the Cookeville Improv Alliance.
Director of Content & Digital Media
WCTE - Upper Cumberland broadcast council
Brent Clark
Email: bclark@wcte.org
Phone: 931-528-2222 ext. 222
Brent Clark is the Director of Content and Digital Media of WCTE. Clark is responsible for overseeing the direction, production, and coordination of all aspects of WCTE's on-air and online content, as well as its contract-based production services, including its digital strategy. Clark is also responsible for refining and developing WCTE's programming to best reflect the special nature of its region and to ensure it is in alignment with national PBS programming. Prior to joining WCTE, Clark worked for Turner Broadcasting System, INC (TBS), managing production related projects for its entertainment and animation, news, young adults and kids networks including CNN and CNN.com; TBS, TNT, Turner Classic Movies and truTV; Cartoon Network and Adult Swim; and Turner Sports. Clark also worked as a freelance manager for Country Music Television (CMT) in print and off-air, managing graphical elements for CMT.
Film Festival Partnerships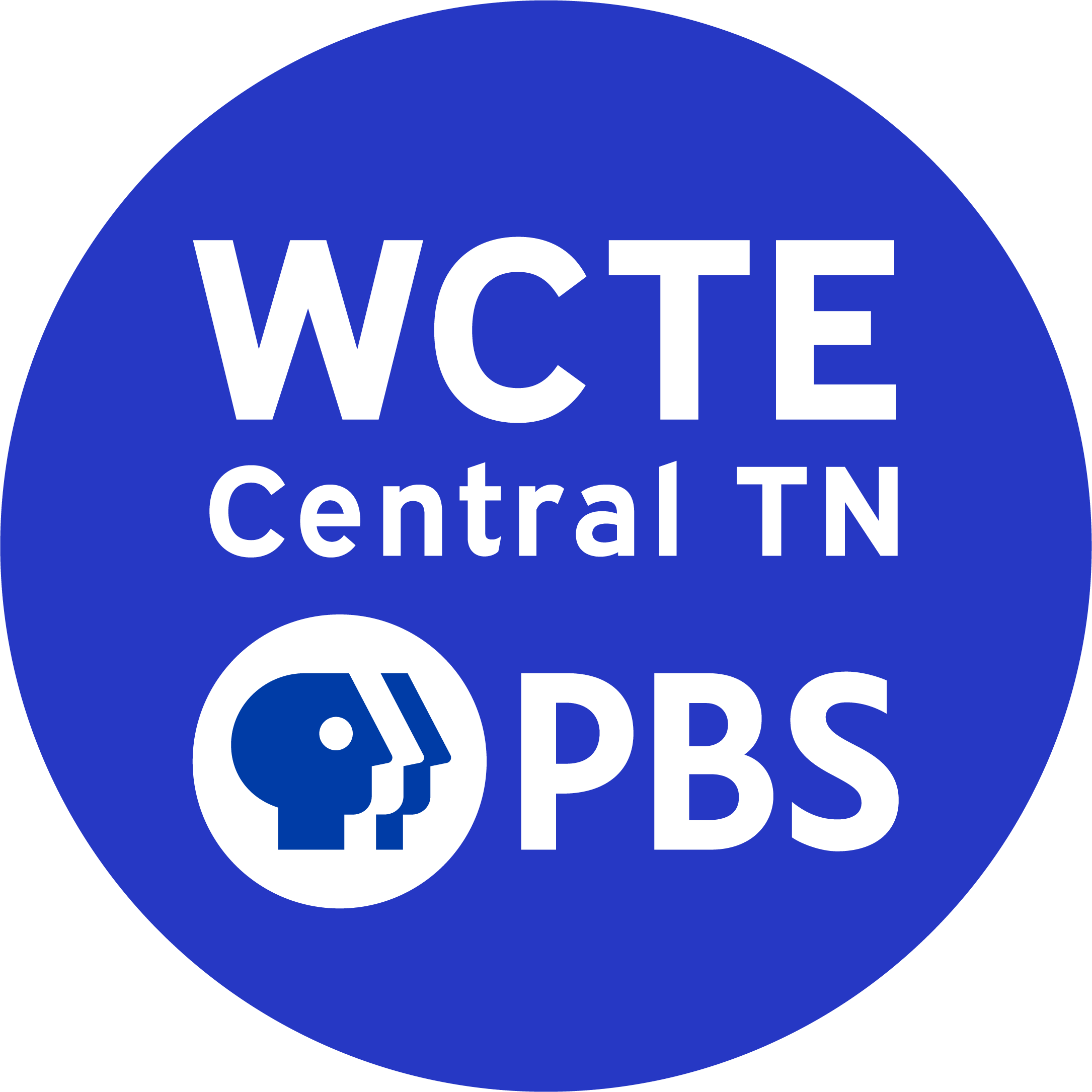 Film Festival Venue Partners
Careful consideration is being given to current community, state, and national precautions regarding COVID-19. Our goal is to make sure everyone stays safe and healthy, and special precautions of our own will be taken at the festival to encourage social distancing and stay sanitary. We are staying ahead of this current and ever-changing situation and taking every suggested step to ensure safety, and our precautions and planning will be fluid as the situation evolves.