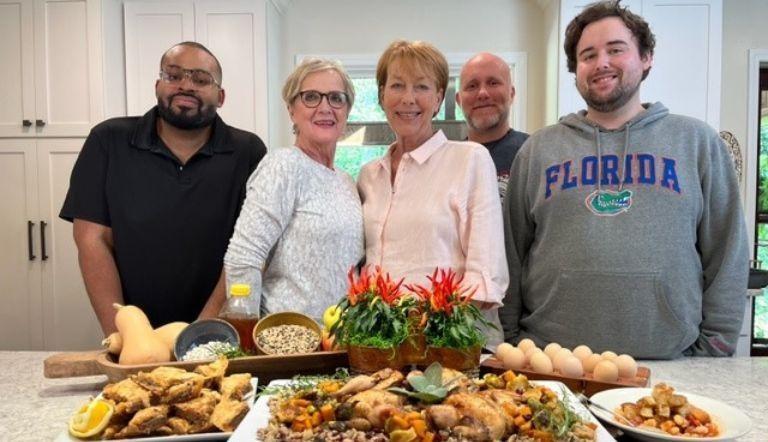 About the 2023 Holiday Show
Melinda Keifer and Grada Casey return with a new episode of LGTN: Holiday Cooking Edition this holiday season. The 30-minute episode features a delicious meal with Cornish Game Hens with Wild Rice Stuffing, Honey Roasted Brussels Sprouts with Butternut Squash and Cranberries, Conecuh County Cassoulet with Cornbread Croutons and Apple Honey Baklava with RidgeTop Apiaries honey. Tune in for this episode, and enjoy hearing and learning about a few traditional holiday dishes that they like to cook for their family gatherings.
This annual holiday special not only showcases the diverse culinary traditions and cultural heritage of our region but also exemplifies the most back-to-basic holiday gatherings. By featuring various traditional recipes and cooking techniques passed down through generations, this type of show encourages cultural preservation and fosters a sense of pride in one's heritage.
About Live Green Tennessee: WCTE's monthly series that takes you all over the Upper Cumberland region, talking with our local farmers, gardeners, and neighbors about how our agricultural heritage and local wisdom can help all of us lead greener, more prosperous and healthy lives. Hosted by Melinda Keifer
Recipes from "Live Green Tennessee Special: 'Tis the Season with Guest Chefs" with Melinda Keifer 2021
Bacon-Wrapped Maple Pork Tenderloin
• 4 pork tenderloin – trimmed and silver skin removed

For roasting pork
• 3 garlic cloves, finely chopped
• 2 tablespoons finely chopped fresh sage
• 3 tablespoons maple syrup (Grade B or amber)
• 16 bacon slices (about 1 lb)
• 1 tablespoon cider vinegar
• Special equipment: an instant-read thermometer

Directions:

Roast pork:
Put oven rack in middle position and preheat oven to 375°F.
Pat pork dry, then transfer to a roasting pan. Stir together garlic, sage, and 2 tablespoon syrup in a small bowl and rub all over pork. Lay bacon slices crosswise over tenderloin, overlapping slightly, and tuck ends of bacon underneath. Roast pork until thermometer registers 140°F.
Stir together 1 tablespoon syrup and vinegar until combined. Brush vinegar mixture over bacon slices and continue to roast pork until thermometer registers 150°F, about 10 minutes more. Remove from oven and let stand in pan 15 minutes. Transfer roast to a cutting board and slice.
Carl's Collards
2-3 bunches collards washed

Bacon drippings 6-8 tablespoons

1 sweet onion chopped

1 tablespoon red pepper

1 tablespoon minced garlic

5 tablespoons hot sauce

4 cans chicken broth

Salt and pepper
Preparation:
Pull all stems from greens
Tear greens into small pieces, discarding all stems. (some are not picky here but I am. no stems.) Washed throughly
Par boil 3-5 min
In a large pot bring water to a boil. Place greens in pot and bring to a boil. Cook for 2 minutes. Pour off water then put greens into colander to drain
Pour 4 cans of chicken broth into pot
Dice sweet onion and add to pot
Add bacon drippings, garlic, red pepper, hot sauce to pot.
Bring to a boil then add greens. Lower to medium heat and cook for 1.5 hours checking to make certain pot liquor is adequate. If not add water. After 30 minutes season with salt and pepper to taste. You can always adjust the seasonings.
After about an hour you can begin to taste test. After a few times you can perfect the recipe with slight adjustments.
Southerners always serve any greens with pepper sauce or white vinegar!
Butternut Squash Soup
1x 3-to-3 1/2-pound butternut squash
2 tablespoons canola oil
Kosher salt and freshly ground black pepper
2 sprigs sage
4 tablespoon butter
1 cup thinly sliced onions
1 cup thinly sliced carrots
½ cup thinly sliced celery
6 garlic cloves, smashed
1 tsp cumin
1 tsp coriander
2 tablespoons honey
4-6 cups vegetable or chicken stock
1 cup heavy cream
4 tablespoons unsalted butter
1 tablespoon minced chives
Extra-virgin olive oil
Preparation:
Preheat the oven to 350 degrees. Line a small baking sheet with aluminum foil. Cut off the neck of the squash. Using a paring knife, peel away the skin from the neck and bulb portion of the squash until you reach the bright orange flesh. Cut the flesh into 1/2-inch pieces. Cut the bulb in half and scoop out and discard seeds. Brush each piece with about 1 1/2 teaspoons of the canola oil. Sprinkle the cavities with salt and pepper and tuck a sprig of sage into each. Place cut-side-down on the baking sheet and roast until completely tender, about 1 hour. Remove the squash from the oven and let cool (discard sage).
Put the remaining canola oil in a stockpot over medium-high heat, add the celery, carrots, and onions and cook, stirring often, for about 6 minutes. Add the garlic, 1 1/2 teaspoons salt, and 1/2 teaspoon pepper and cook gently for 3 minutes, reducing the heat as necessary to keep the garlic from coloring. Stir in the honey and cook, stirring, for 2 to 3 minutes. Add the stock and spices, bring to a simmer.
Add the roasted squash and simmer gently for about 30 minutes for the flavors to blend. Remove from the heat. Transfer the soup to a blender, in batches, and purée (you can also use an immersion blender). Taste the soup and adjust the seasoning.
Add the heavy cream and stir until incorporated.
Ladle the soup into serving bowls. You can top each with a dollop of crème fraîche. Grind some black pepper over the top. Drizzle a little olive oil over the top.
Yad Araujo's Empanadas
4 cup flour
2 cup shortening
1/2 cup granulated sugar
1 tbsp ground cinnamon
1 tsp baking powder
Pinch of salt
1/5 cup pepsi or coke or any cola
Preparations:
Cream the shortening for 2 minutes. Add sugar and mix for another 2 minutes. Mix in the baking powder and salt.
Gradually mix in the flour just until incorporated. Gradually mix in the carbonated, room temperature coca cola. Do not over mix.
Transfer dough to a lightly floured surface and knead gently for 1-2 minutes. Cover with plastic wrap and let sit for 30 minutes.
Make 36 equal dough balls. Keep covered in a bowl so they don't dry out. Roll out your empanada disc to about 3 inches. Add 1 tablespoon of your favorite filling (pineapple, pumpkin, apple)… Fold over and apply pressure with your fingers. Seal with a fork around the edges or you can pinch and fold over to give it that braid look. Transfer filled empanadas to a parchment lined baking sheet. If you will be dredging through cinnamon and sugar leave them as is. If you prefer to finish them with egg wash, then go ahead and brush them all over the exposed surface of the empanada. Bake in a preheated 375 degree F oven for 26-30 minutes or until lightly golden brown in color. If dredging with cinnamon and sugar, you want to do this while empanadas are still warm.
Recipes from "At Home with Melinda Keifer: Live Green Tennessee Special" 2020
Peanut Brittle
1 cup sugar
½ cup white Karo syrup
1/3 cup water
1 cup Spanish (skin on) peanuts
1 T. butter
½ t. salt (our family likes a little more salt)
½ t. vanilla
Candy Thermometer
Sheet pan that has been buttered
Combine sugar, Karo syrup, and water in an iron skillet and heat till mixture reached 250 degrees.
Add the peanuts and continue to cook, stirring constantly, to 295 degrees and light puffs of smoke lift from the skillet. The color should begin to be golden.
Add butter, salt and soda and continue stirring constantly as golden color intensifies.
Remove from heat – be careful – mixture will be extremely hot – and add the soda stirring well.
Immediately pour hot mixture onto buttered sheet pan and spread to an even layer.
Allow to cool and then break into pieces.
Fall Kale Salad with Roasted Butternut Squash
1 bunch of kale
1/2 cup dried cranberries
1/2 cup pumpkin seeds
1 large acorn squash
Preheat oven to 375.
Scrub acorn squash and cut in half (no need to peel!).
Scrape out seeds and slice into half-moons about 1/2 inch think and toss the squash in 2 tablespoons of olive oil and salt and pepper to taste.
Place on a baking sheet lined with parchment paper and roast for 25 minutes or until squash is tender and slightly golden brown.
Meanwhile, Wash and chop kale and put in salad bowl.
"Massage" kale by gently rubbing squeezing it with your hands to tenderize the greens
Add in dried cranberries and seeds and toss.
Once squash has cooled slightly, rough chop into cubes and place onto salad.
Toss with dressing lightly adding a couple of tablespoons at a time until you reach desired amount.
Substitutions and additions: use any winter squash like butternut squash or delicata squash instead of acorn squash. Substitute sunflower seeds or sliced almonds instead of pumpkin seeds. Use another favorite dried fruit instead of cranberries. Add some crumbled blue cheese or feta!
Maple-Dijon Vinaigrette
2 T. maple syrup
1 T. Dijon mustard
2 T. apple cider vinegar
1/3 cup extra virgin olive oil
Salt and freshly ground pepper
Whisk together the maple syrup, mustard and cider vinegar.
Whisk in the olive oil in a slow, steady stream until the vinaigrette emulsifies.
We use a jar with lid and shake!!
Fresh Cranberry Sauce
1/2 cup fresh orange juice
1/2 cup water
3/4 cup plus 2 tablespoons sugar
1 (12 oz) bag fresh or frozen cranberries (do not use dried)
Zest of one orange, about 2 teaspoons
Pinch salt
In a medium sauce pan over high heat, bring the orange juice, water and sugar to a boil.
Add the cranberries, orange zest, and salt and return to a boil.
Reduce the heat to medium and boil gently for 10 to 12 minutes, until most of cranberries have burst open. (You may need to mash them a bit with a spoon.)
Transfer sauce to a serving bowl. Cover and chill until ready to serve.
Make-Ahead/Freezing Instructions: Cranberry sauce will keep for 10 days in a covered container in the refrigerator. It can also be frozen for up to two months. Thaw overnight in the refrigerator before using.